When you have a little infant in the house, there are a hundred things to worry about. You'll find yourself very concerned about your little one's bowel movements. If your child becomes constipated, you'll be particularly worried because of how uncomfortable they'll seem. Here's how you can help.
Belly Massage
Massaging your baby's belly could end up being a very simple remedy for constipation. Measure three fingers-widths below their navel on the lower left side and begin to massage with gentle pressure. A couple minutes of this may be able to get their body running smoothly again.
Glycerin Suppository
If your child is still constipated after changing up their diet, you can try using a glycerin suppository to stimulate a bowel movement. A glycerin suppository is a hyperosmotic laxative that works by irritating the lining of the intestine and increasing the amount of fluid in your child. This makes stools easier to pass and can work well on occasion to cure the constipation. The only concern is to not rely on this method too often, as your child may begin relying on them to have a bowel movement.
Diet Change
Changing up a baby's diet is an easy way you can try breaking up the constipation in a child. If they haven't started solid foods yet, try switching to a different brand or type of formula for them. Also, if they're breastfeeding, a change in Mom's diet could actually make the difference as well. If they're ready for solids, try feeding your baby certain fruits and vegetables that will get their digestive system back on track.
Exercise
Getting your child moving is another possible cure for constipation. Whether it's crawling around chasing their toys, rolling around with their favorite blanket or stuffed animal, or getting their legs churning with the help of mom, any movement to get their digestive system more active should help.
Contact a Physician
If all else fails, contacting your child's doctor is your best bet to get additional advice. In addition to any treatment options that they may offer, you should ask them about any over-the-counter stool softeners or products that are safe enough for a baby to take. If you're thinking about a laxative, you should always consult with a doctor before trying this with a small child or infant.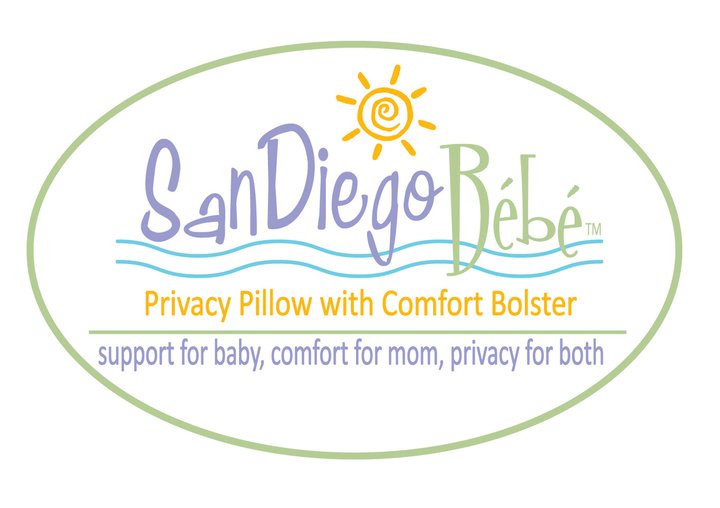 Guest Blog by Sandy Clark, Inventor of San Diego Bebe Eco-Nursing Pillow
San Diego Bebe® was designed by San Diego native Sandy Clark, a passionate breastfeeding advocate and mother of twins. Clark was inspired at a San Diego beach one day where she witnessed a young mother unsuccessfully nursing her baby. As the mother struggled to keep a blanket across her shoulder for privacy while her baby wailed from heat and hunger, Clark vowed then and there to design a product that would help resolve the issue of discretion while nursing in public. San Diego Bebe® was born that day.
After Clark read a recent Duke University study on toxic chemicals in baby products, she sent her nursing pillow to Duke to be tested and reviewed. Duke University Chemical Scientist Dr. Heather Stapleton, the nation's leading fire-retardant research specialist, and a new mother herself, said, "It's wonderful to find a nursing pillow on the market that is not treated with chemical flame-retardant additives in the filling material. San Diego Bebe® Eco-Nursing Pillow is not only a very supportive pillow with amazing features for discreet nursing, but is also free of flame-retardant chemicals that have been shown to cause adverse health effects in animal studies. I applaud this manufacturer for taking steps to produce high quality products that meet the same flammability standards without using these chemicals."
San Diego Bebe® Eco-Nursing Pillow is the healthiest and most innovative nursing pillow on the market. Made with virgin Eco*Loft™ fiber, a non-toxic and hypo-allergenic foam-alternative, it's void of harmful chemicals. It's also recyclable and eco-friendly. San Diego Bebe® is available in two versions, for nursing one baby or twins. The entire line is baby-safe, and is covered with deluxe plush fabrics including organic cotton.
Click to view a Nursing Pillow Comparison Chart to learn more.
Interested in writing a guest blog for Zippyz? Send your topic idea to: media@shopzippyz.com.
All data and information provided on this site is for informational purposes only. Zippyz makes no representations as to accuracy, completeness, current-ness, suitability, or validity of any information on this site and will not be liable for any errors, omissions, or delays in this information, or any losses, injuries, or damages arising from its display or use. All information is provided on an as-is basis.